We are so happy to have you all on board for Evita! We know you're going to have a fantastic time! Here is some information that will help you and your family throughout our adventure.
At the bottom of the page is a form to complete. Please complete this form as your confirmation of participation.
---
About Drayton Entertainment
Drayton Entertainment is a registered, not-for-profit charitable organization, and one of Canada's most successful professional theatre companies. From Broadway musicals, to laugh-a-minute comedies and riveting dramas, Drayton Entertainment presents the finest in live theatre for all ages on seven unique stages, at six venues, in five communities across Ontario: the Drayton Festival Theatre in Drayton, Hamilton Family Theatre Cambridge in Cambridge, Huron Country Playhouse in Grand Bend, King's Wharf Theatre in Penetanguishene, and St. Jacobs Country Playhouse and the Schoolhouse Theatre in St. Jacobs.
To every rehearsal:
Water (ensure it is easy to identify, can be refilled etc.)
A snack 🙂 BUT please NO nuts! You will need lots of energy during rehearsals!
Your Script(which will be provided 1st rehearsal)
A sharpened pencil & sharpener
A bag labelled with your name to carry your things to each rehearsal
Comfortable clothes you are able to move in and sneakers/dance shoes
A positive team attitude, enthusiasm, good listening skills, patience
To every show:
Water
Something to cover your costume during break (i.e. a big shirt, apron, pyjamas)
A snack 🙂 BUT please NO nuts!
A quiet activity to keep busy when you aren't on stage i.e.: a book to read, paper to draw, simple crafts, games.
Important Do's and Don'ts
Backstage

On Stage

Dressing Room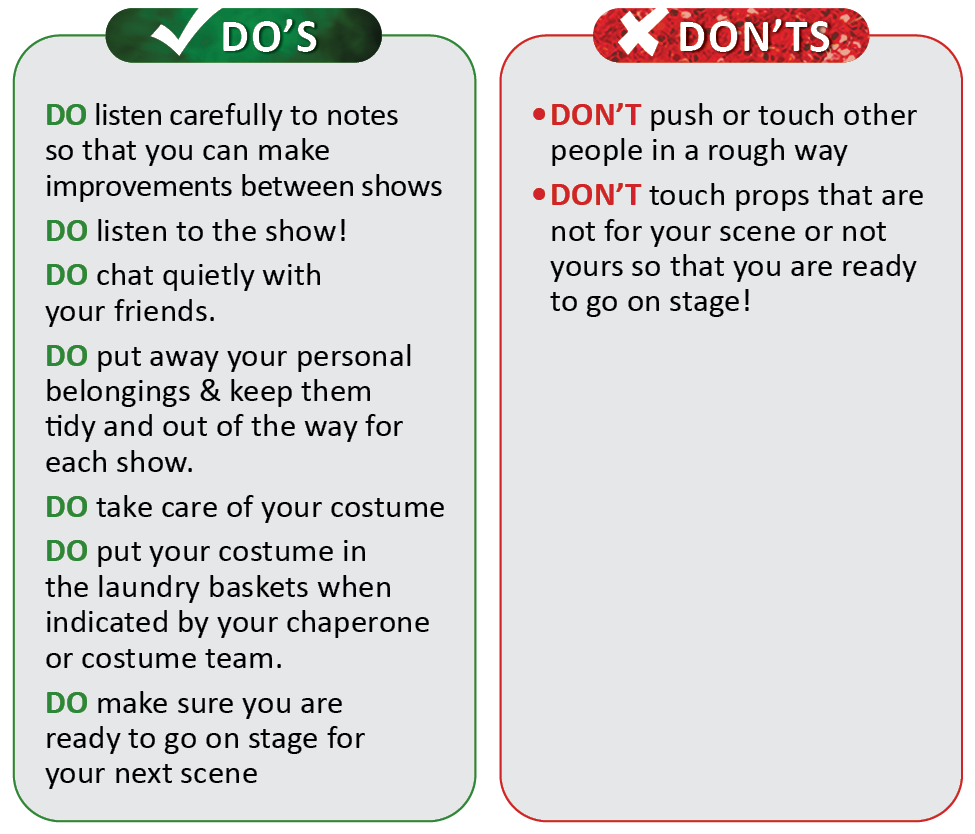 Roles in Theatre
Behind every theatre production there is a whole team of people working to create the incredible show put on stage. Here is a short explanation about some key roles you will see behind the scenes of this production.
DIRECTOR
Prepares cast members to perform their lines, choreography, songs, etc. in a way that suits their overall vision for the show. In charge of creative decisions and determining the unique direction the production will take.
SOUND AND LIGHTING TECHNICIANS
Technicians are responsible for ensuring everyone onstage can be seen and heard. They work with equipment such as microphones, speakers, spotlights, and more.
COSTUMERS/WARDROBE
The wardrobe team is responsible for finding, creating, and maintaining all the costumes worn onstage according to the vision of the director and the needs of the production.
PROPERTIES
This is normally shortened to "props" and involves all the pieces on stage the actors will interact with, pick up, and use to enhance the performance.
VOLUNTEERS
Volunteers are needed to help ensure all rehearsals and performances run smoothly. Parents can sign up to be volunteers if they wish to join in behind the scenes of the show
STAGE MANAGER AND ASSISTANT/APPRENTICE STAGE MANAGERS
When performances begin, the production becomes the stage manager's show. They work behind the scenes to ensure everything runs smoothly, including cueing actors, sound, lighting, and music from the booth. The assistant stage managers work with the stage manager from other places within the theatre (such as backstage) to ensure the show goes off without a hitch.
HAIR AND MAKEUP ARTISTS
These artists are responsible for the "looks" that go onstage during the show. Specifics regarding hair and makeup for children's chorus members will be communicated to you.
SET DESIGNERS AND BUILDERS/PAINTERS
The set designer is responsible for bringing to life the environment of the production. They create pieces to go onstage that communicate the setting of each scene to the audience according to the director's vision.
Common Theatrical Terms
Here is a list of common theatrical terms you might hear during the production and what they mean.
CALLBOARD
A place backstage where company rules, announcements, notes, and messages are posted.
CAST/COMPANY
The participants in a production.
CURTAIN CALL
The section at the end of a performance where everyone comes out to bow.
DEBUT
An actor's first appearance with the theatre company.
EQUITY
In this context, will typically be referring to the Actor's Equity Association, a union for stage actors.
FARCE
A play that aims to entertain and provoke laughter through a somewhat "ridiculous" style of humour.
FRONT OF HOUSE (FOH)
Staff that work in the house (i.e. not onstage or backstage). Includes ushers, house managers, box office personnel, etc.
GREENROOM
A gathering room for performers backstage.
HOUSE
The entire theatre beyond the front of the stage. Includes the audience, lobby, etc.
MATINEE
Used to describe a performance happening in the afternoon (usually around 1 or 2 pm)
TECH BOOTH
Small, enclosed space towards back of the auditorium that is used to house light and sound equipment. The stage manager often runs the show from the booth.
UNDERSTUDY
A performer who is prepared to substitute for another role in the event someone cannot perform.
Stage Directions
DOWNSTAGE
The part of the stage closest to the audience.
UPSTAGE
The part of the stage furthest from the audience.
STAGE LEFT
the left of the stage, according to the actor's perspective.
STAGE RIGHT
The right side of the stage, according to the actor's perspective.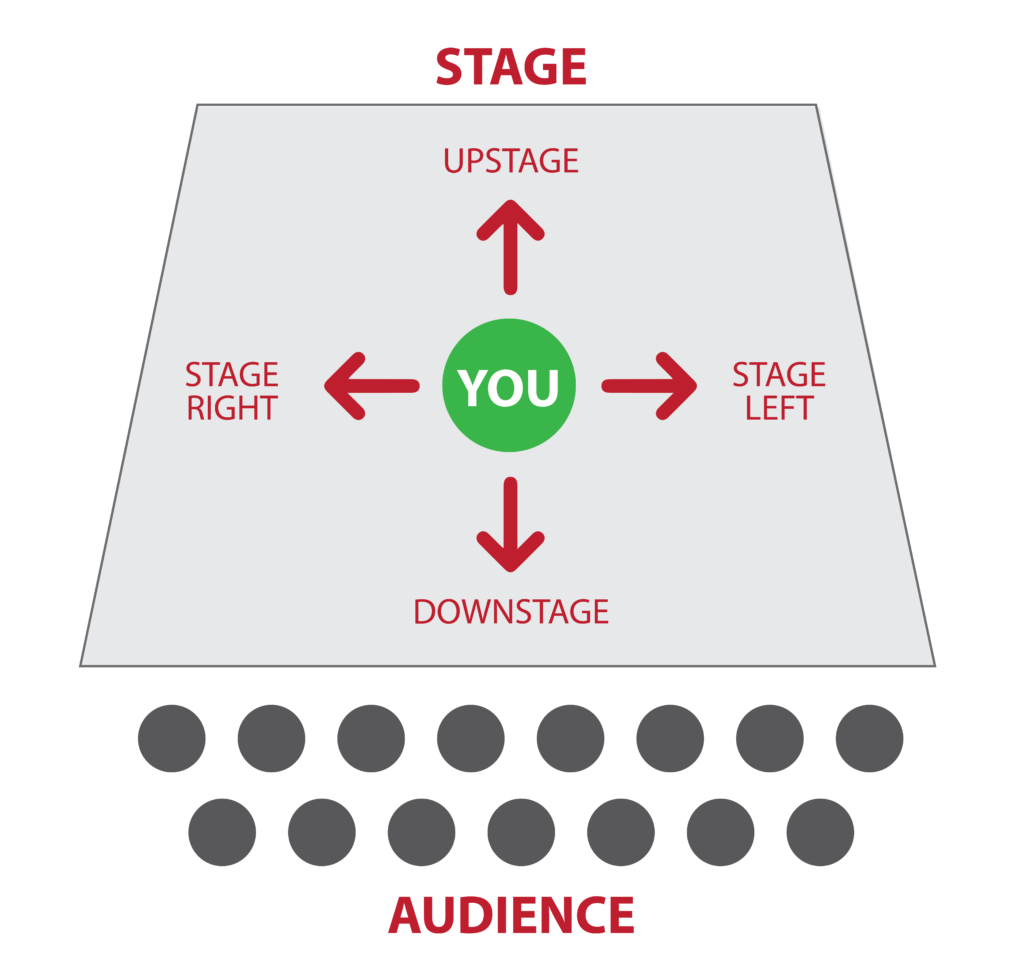 "I Promise to…
Listen to all Crew Backstage
Never touch a prop that does not belong to me
Stay completely silent and focused when travelling to and from the stage
Never eat or drink while in my costume
Hang up each costume when I'm done
Keep my volume low, and Listen for my cue over program sound
Bring a quiet activity for myself, during downtime
Keep a positive attitude!"
Want to be a Parent Volunteer?
Dear Parents/Guardians of the Children's Chorus,
Drayton Entertainment is currently looking for parent volunteer chaperones for our 2023 Children's Chorus. Volunteer chaperones help ensure the safety of our cast and crew and maintain supervision over our children's chorus during rehearsals and performances. It is essential that youth cast members have adult volunteers they are able to go to for support and guidance while participating in our productions. Typically, the role consists of supervising and organizing children's chorus members to ensure rehearsals and performances run smoothly.
General expectations for volunteer chaperones are as follows:
Arrival 15 minutes before children's chorus call time to each volunteer shift
Assisting the Child Supervisor
Maintaining organization backstage with children's chorus members

Ensuring the space, props, costumes, and members of the cast are respected at all times
More detailed expectations according to the Canadian Theatre Agreement are found in the Parent Volunteer Contract, which is to be signed and submitted if you are interested in volunteering.
Parent Volunteer Contract
You will receive two complimentary tickets to see the show that your child is in, subject to availability. Should a family request their two (2) Complimentary Tickets for an Opening Night, approval is at the discretion of the Director of Marketing and/or the Artistic Administrator and subject to availability.
You can also purchase tickets at a special reduced rate for family and friends to come and see the show. Our regular ticket price is $55 + HST for adults, but if you call the box office and mention that your child is in the cast, you will receive your tickets for $45 + HST – youth under 20 are always $34 + HST. Please note, only parents can book and receive this discount, once the teams have been determined. Extended family and friends cannot call the box office to receive this discount.
Evita
Evita
Michael Lichtefeld – Director/Choreographer
Bob Foster – Music Director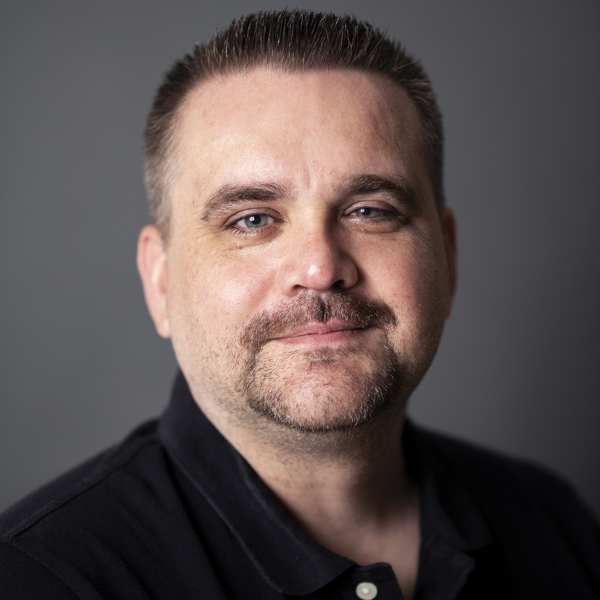 Paul Pembleton, Stage Manager
1st contact for parents; Go-to person re: schedule, absence, injury, go between for other team members like the Director.
Sevile Schryer, Child Supervisor
Rehearsal and Show Schedule
SUBJECT TO CHANGE
Rehearsal Schedule – SUBJECT TO CHANGE
Beginning September 28th selected weekday evenings and full day weekends leading up to the first show on October 18th.
Below is the tentative rehearsal schedule for the first two weeks, subject to change:
Rehearsals will be at the Hamilton Family Theatre in Cambridge
*Fittings TBA
Rehearsals:
Friday Sept 29: 4-6pm
Saturday Sept 30: 10-2pm
Sunday Oct 1 2-6pm
Friday Oct 6: 4-6
Saturday Oct 7: 2-6pm
Sunday Oct 8: 2-6pm
Tech Schedule TBA
Show Schedule – SUBJECT TO CHANGE
Girls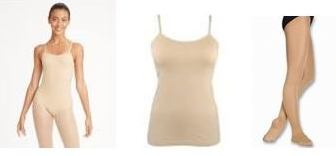 Nude dance tights
Nude sleeveless leotard OR tank top and dance pants
Boys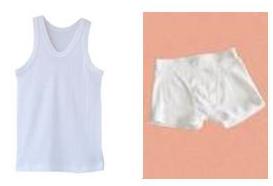 White singlet and boxer shorts
Come prepared with specified garments, these do not need to be the exact ones they will wear for the show. The purpose of this is to speed up the fitting process. The children will put their costumes on directly over what they are wearing so wardrobe personnel do not have to leave the room while they are switching between costumes
These requirements are NOT for rehearsals. They become relevant when wearing costumes and attending fittings. These garments remain on at all times while children are changing between costumes.
| | | | | |
| --- | --- | --- | --- | --- |
| Parent(s) Name | Youth(s) Name | Team Colour | Contact | Location |
| Michelle | Olivia | Blue | call / text 519-496-2243 | Waterloo – Columbia and Westmount |
| Jessica | Ariadne | Blue | text 519-577-2919 | Baden |
| Megan | Lily and Eamon | Red | call / text 416-909-9714 | Kiwanis park/river ridge |
| Mairghread | Aelish | Red | call / text 519-546-0106, or mairghread@gmail.com | Guelph, East end-ish |
| Kathryn | Kira | Blue | Cell: 519-580-4353 | Waterloo – University & Bridge |
Policies and Procedures
Food and Drink:
Children's chorus members are encouraged to bring a light snack to rehearsals and performances. Please avoid snacks that may cause a large mess or that your child may require assistance with. We are a nut-free building. Every student should have a refillable water bottle that they bring with them to rehearsals and performances. No gum is permitted anywhere in the building.
Electronics:
Children's chorus members will have access to their electronics during breaks should they need to contact their parents/guardians. Electronic devices may not be used or kept on their person during rehearsals or performances. To ensure everyone's safety, taking and sharing photos and videos online is not allowed unless otherwise given permission.
Dress Code:
We ask that everyone come prepared to effectively participate in rehearsal, adhering to dress codes assigned at registration. Children should wear comfortable clothing they are able to move in. Dry, closed-toed shoes are mandatory, these may include indoor sneakers or dance shoes. See "What you need to bring to every rehearsal" section above for more information.
Equity, Diversity, and Inclusion:
Drayton Entertainment's EDI vision is to be an entertainment company that is diverse, equitable and inclusive. Its EDI mission is to adopt equitable and inclusive principles and practices to realize a community where this diversity thrives and aligns seamlessly with Drayton Entertainment's core values of Respect, Creativity, Growth and Accountability. More, including our EDI Statement and Progress Report can be found online at www.draytonentertainment.com.
Gender Identity and Inclusion:
Drayton Entertainment is committed to ensuring the physical and emotional safety of all students. As part of this commitment, we want to make sure students of all gender expressions and identities feel safe, welcomed and accepted. Drayton Entertainment exists within a broader context of law and public policy that protects and defends human rights. The Ontario Human Rights Code (the Code) provides for equal rights and opportunities, and freedom from discrimination. People who are discriminated against or harassed because of their gender identity and/or gender expression are legally protected from discrimination under the Code.
Violence, Harassment, and Discrimination:
All workers, volunteers, visitors, parents and participants must abide by applicable Drayton Entertainment policies including, but not limited to, Drayton Entertainment's Violence and Harassment Policies.
Drayton Entertainment is committed to building and maintaining a safe and respectful workplace and training environment. Drayton Entertainment does not tolerate acts of discrimination, bullying, violence or any form of harassment against workers, volunteers, visitors, parents and participants. Should an individual or group report an act of discrimination, bullying, violence or harassment, management will take all reasonable steps to investigate the report and respond in a reasonable manner, per Drayton Entertainment's Workplace Harassment and Violence policies. By agreeing to these terms, the parent/guardian and participant understand these policies.
Zero Bully Tolerance:
Drayton Entertainment students shall respect their fellow cast mates, teachers, supervisors, and assistants. No gossip, obscene language, bullying or inappropriate conversations by either parents or students will be tolerated. If a child is being disruptive, they will receive a verbal warning. If the disruption reoccurs, the child will be sent home. If a child is sent home twice in the same production, they will be removed from that production. Children who engage in physical or verbal bullying or violence will be immediately removed.
Medical Emergency Policy:
In any event of an accident or emergency when Drayton Entertainment is not able to reach a parent or guardian, I hereby authorize my child to be transported to a hospital for medical treatment and hold Drayton Theatres Inc and its representatives, harmless in the execution of such. Additionally, I hereby agree to individually provide for all medical expenses which may be incurred as a result of any injury sustained while participating at or for Drayton Entertainment.
Risk and Release of Liability Waiver:
I, the minor's parent or legal guardian, understand the nature of the activities my child will be involved in at Drayton Entertainment and the minor's experience and capabilities. I acknowledge that I must advise Drayton Entertainment in writing if the student is not physically fit to participate fully in the activities. Otherwise, I believe the minor to be qualified, in good health, and in proper physical condition to participate in such activities.
I release and hold harmless Drayton Theatres Inc., operating as Drayton Entertainment, from any and all liability, claims, demands, and causes of action whatsoever, arising out of or related to any loss, damage, or injury, that may be sustained by the participant and/or the undersigned, while in or upon the premises or any premises under the control and supervision of Drayton Entertainment, or in route to or from any of said premises.
Image Release Waiver:
As the legal parent or guardian, I agree to allow and give permission to Drayton Entertainment to use any photos or video footage of my child/children (rehearsals or performances) for the promotional use and purposes, should Drayton Entertainment choose to do so in regards to the advertising of Drayton Entertainment.
Please upload a head-to-toe body picture to the dropbox. Be sure to label the photo with first and last name then show (Ex: Randi Perriam_Evita) These will help wardrobe get a good idea of pairings for doubles!
---
Follow us on Social Media